Stay tuned for all your Trinidad & Tobago Equestrian updates!!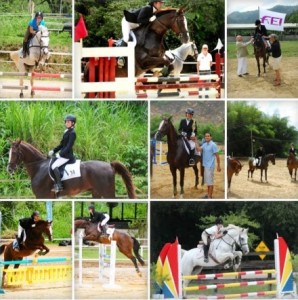 The TTEA's Super League 1 and the FEI World Jumping Challenge 1 will be held on Sunday 22rd March at Saddle Valley Stables, Santa Cruz.
These competitions will be held together as the FEI WJC has changed their format and is held over 3 legs.      To read more, click here, and feel free to LIKE or SHARE on Facebook.
* * *
Please click here to see the full table of FEI WDC Trial Results for 2015.
Congrats to Muffy Auerbach who won the Advanced Level;  Patrice Stollmeyer who won the Medium Test and Elementary Test; Hadley Rahael, Elementary Test Children; Michelle Sabga-Aboud Preliminary Children;  Adelle Stollmeyer, Preliminary Adult and Kathy-Anne Pyke, USEF Training Level Test 3
Browse through some photos of the Barbadian contingent of the real CEA event.
Read the article on the win by T&T in the Regional Show Jumping in Barbados.
Current membership fees cover the period 1 Jan 2014 to end June 2015. Note that the financial year has been changed  to begin in July, therefore the annual membership fee will be due every July. Click here to see current rates.
* * *
The Super League 2014 rules have been amended.  To view the rules, please click here.
The CEI Mini Dressage Challenge rules for 2014 have been uploaded to this website.  See the "Dressage Rules & Results" page here.
The FEI World Dressage Challenges results for Zone 10 have been uploaded to this website.  See the "Dressage Rules & Results" page.  Click here.
Interested in learning to ride or just getting involved? Check out all our recommended stables here.
Happy Riding!