Stay tuned for all your Trinidad & Tobago Equestrian updates!!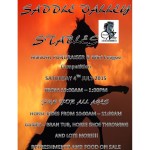 Please click to see the flyer for the FUNDRAISER AT SADDLE VALLEY STABLES  which will be held on July 4th.
The next scheduled event for the TTEA is the CEA Dressage Friendly Final which will be held on 10th July 2015.
To view the Calendar of Events, Click Here.
Be sure to visit our Gallery to see some pictures of TTEA riders  and riders.      
Please remember to 'Share' articles & galleries to your Facebook page
* * *
Click to see the Rules for the CEA Regional Jumping Challenge and to see Courses for the Competition in 2015.
* * *
Interested in learning to ride or just getting involved? Check out all our Recommended Stables
Happy Riding!