Sea View Stables/ Horses Helping Humans
Location: #1 Carrisal Trace, North Coast Road, Maracas,
Phone# 768-6394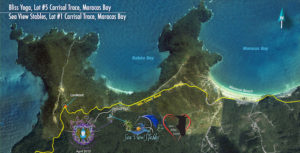 Website: www.hhhtrinidad@weebly.com
Founder/Director, Hippo Therapist/Riding Instructor: Karen Stollmeyer
CHA-Certified Riding Instructor: Hannah Halpern
Services offered:
-Hippo Therapy for children with autism and other special needs
-Equine Facilitated Therapy for children or adults
-Natural Horsemanship Riding Lessons for children and adults
-Riding for Stress Management
-Horse Experiences for children and adults
-Pony Parties
-Children's camps and school outings
Facilities:
Stables with 4 horses and 2 ponies
Large riding ring
Beautiful mountain rainforest setting with trails
2 minutes drive from Maracas Bay
HHH provides Hippotherapy, or Therapeutic Horseback Riding to children with autism and other special needs. Hippotherapy and Animal Assisted Therapy can be very effective for improving the communications skills of children with autism and special needs, and can provide many other benefits, including improved core muscle strength, balance, and coordination, and improved social skill development in all children. Equine Assisted Therapy has also been proven to reduce stress and anxiety and depression in both children and adults.
Seaview Stables also offers Natural Horsemanship Riding Lessons and the Horse Experience for anyone who would like to experience the healing and therapeutic power of being with horses.