The team of Adelle Stollmeyer and Jordanne Brown took home first place at Trinidad's Leg of the  Jumping competition which was held at Saddle Valley Stables, Santa Cruz on the 27th and 28th Septemb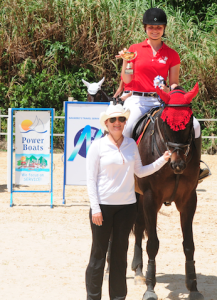 er.
Coached by Mrs Patrice Stollmeyer, the team emerged with only 10 faults over the three jumping rounds against Jamaica's second place finish with 26 faults and Cayman Islands' 27 faults.
Individually, Stollmeyer was first in the 16 & Under category with only 1 time fault in the last round of the competition, having ridden clear the day before. Sara Misir of Jamaica placed second with 8 jumping faults, and Isabelle Smith from the Cayman Islands, a respectable third place finish with 14 faults in total.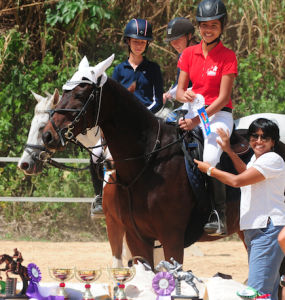 In the 14 & Under category, Brown's final score after three rounds was 9 faults, but she emerged the winner even after an unlucky rail down and 4 time faults in her final round. Coming second with a total of 13 faults was Chloe Fowler of Cayman Islands, and third, Annika Steward of Jamaica with 18 faults at the end of the competition.
Stollmeyer and Brown will represent Trinidad again at the final leg of the CEA Junior Jumping 2014, held in Jamaica on the 8th and 9th of November.