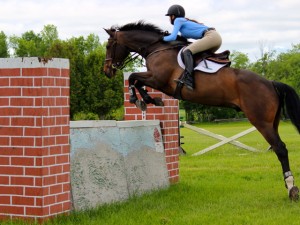 15 year old Amber Thompson met Ian Millar (aka Captain Canada) in Wellington, Fla., earlier this year when she was there for the Caribbean Friendly Challenge.
Fiona Kinch, Emily's mum, kindly introduced them, and then Amy Millar, Ian's daughter contacted Amber and her mum Debbie to invite Amber to go to Canada to train and compete with her.
Debbie and Amber traveled to Perth, Ontario, near Ottawa, and trained with Amy for a few days. Last weekend,they traveled to a competition near Toronto to compete. On the first day, Amber had two clear rounds but the horse was strong. The next day Amber got two wins! They were 14 juniors in each class and Amber also beat the Amateurs on time (riding at the same time but in a different class). The height was at 1.0m. On the third day, Amber had a second place (beaten by 1 second) and a fifth place. The end result was Reserve Junior Champion! Amber has been competing on Vertigo, a throughbred who has competed up to Grand Prix level.
There will also be showing this weekend in the 1.10m class.